SSD-Based Drives
You can never go wrong with our own top-notch dedicated servers, loaded with the latest Intel Xeon processors, terabytes of SSD disk space and 128 GB of RAM per server.

Control Panel
PreVPS provides KVM over IP (IPMI) for all dedicated GPU servers. The Intelligent Platform Management Interface (IPMI) system provides management and monitoring capabilities independently.

Full Root Access
With full root access, you will be able to take full control of your server very easily and quickly. To use all the power provided effectively, you will have to have very little technical knowledge.

99.9% Uptime
With enterprise-class data centers and infrastructure, we provide a 99.9% uptime guarantee for our servers and network.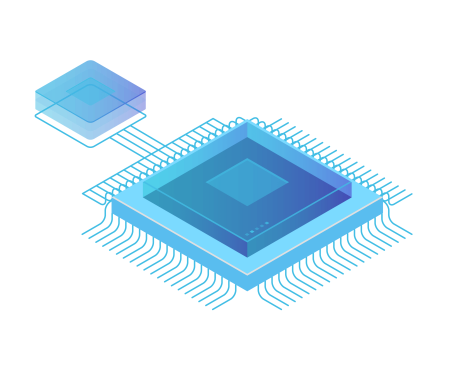 Integrated GPU and Discrete GPU
GPUs come in two basic types. One is an integrated(or embedded) GPU that is built onto and shares memory with the CPU. The other is a discrete GPU that has its own card and memory. Our GPU servers employ the discrete GPUs.
FAQs
What is GPU Server?
A GPU server is a server packed with a GPU (graphics processing unit). GPU, also called graphics card or video card, is a specialized electronic circuit that accelerates the process of creating and rendering computer graphics, video, ect. It performs rapid mathematical calculations while freeing the CPU to perform other tasks.
GPU Server vs. GPU VPS
When renting a VPS with the GPU you have direct access to the GPUs. However, it's working on the same primary server with other VPSs. But a GPU dedicated hosting server is your own, personal computer. You can use it for anything you want with high-performance SSD drives for AI, gaming, and machine learning.
What Is the Difference Between Integrated Graphics and Discrete Graphics?
A graphics processing unit (GPU) is a processor dedicated solely to graphics processing operations. One of the main functions of the GPU is to lighten the load on the central processing unit (CPU), especially when running a graphics intensive game or application. A GPU can be either integrated or discrete. See below for more information.
Integrated graphics
Integrated graphics is a GPU built into the processor. Integrated graphics hardware doesn't use a separate memory bank for graphics/video. Instead, the GPU uses system memory that is shared with the CPU. Since integrated graphics is built into the processor, it typically uses less power and as a result creates less heat, which can result in a longer battery life. Processors with integrated graphics are most commonly found in smaller form factor systems such as laptops and Intel® NUCs.
Discrete graphics
Discrete graphics is a GPU that is a separate from the processor. Discrete graphics has its own dedicated memory that is not shared with the CPU. Since discrete graphics is separate from the processor chip, it consumes more power and generates a significant amount of heat. However, since a discrete graphics has its own memory source and power source, it provides higher performance than integrated graphics. Discrete graphics cards are most commonly found in desktop PCs. Laptops and small form factor PCs can also contain discrete graphics cards.
What Are GPUs Used For?
GPUs are best suited for repetitive and highly-parallel computing tasks. Beyond video rendering, GPUs excel in machine learning, Artificial Intelligence, and many other types of scientific computations.
GPUs for Gaming
Rendering scenarios, such as video games, require GPUs for graphics acceleration and real-time rendering, and also require massive computing capacities, memory, and storage. With advanced display technologies, such as 4K screens and high refresh rates, along with the rise of virtual reality gaming, demands on graphics processing are growing fast. GPUs can have hundreds or thousands of small cores and are perfect for 2D and 3D calculations and rendering 3D graphics. With better graphics performance, games can be played at higher resolution, at faster frame rates, or both.
GPUs for Video Editing and Content Creation
Working with video editing, visual effects, and animation requires a high-performing PC to efficiently handle the resource-heavy tasks and avoid waiting for projects to render and encode. GPUs usually have hundreds or thousands of small cores. These highly task-parallel, specialized computing cores are perfectly used for graphics processing, making it faster and easier to render video and graphics in higher-definition formats.
GPU for Machine Learning
Artificial Intelligence and Machine Learning operations often require processing massive amounts of images or videos. Because GPUs incorporate an extraordinary amount of computational capability, they can deliver incredible acceleration in workloads that take advantage of the highly parallel nature of GPUs, such as image recognition.
What does a GPU server do?
A GPU server is a server packed with GPU that is often used for machine learning, video editing, and gaming applications.
What is the difference between a CPU and a GPU?
A CPU commonly consists of only 4 or 8 fast and flexible cores that are optimized to handle a wide range of tasks sequentially. Whereas, a GPU have thousands of relatively simple cores that are designed for parallel processing. For high performance, we will need both CPU and GPU.